Center for American Progress
A Voting Rights Story
Over his nearly 50 years in the North Carolina state legislator, Rep. Mickey Michaux helped increase voting rights and participation. However, recent efforts in the state are putting these advances at risk. ...
Powering Progress: 2016 Progressive Party
This week, American Progress hosted its annual Progressive Party, featuring Sen. Cory Booker (D-NJ), who discussed the enduring and unifying values of the progressive movement and the need for new policies that lift up all Americans. ...
Oregon's Success Shows Way Forward for Automatic Voter Registration
Research explains why Oregon's automatic voter registration program can successfully register the greatest number of eligible voters. ...
Global Progress: New Ideas for the Future of the Global Progressive Movement
A new generation of progressive leadership is emerging in Europe and North America that is rising to the challenge of inclusive prosperity, climate change, and need for institutional reform. ...
Moving Forward Together
Wherever people are practicing inclusive politics, inclusive economics, and inclusive social policies, good things are happening. ...
The Promise of Progress
An agenda for shared prosperity, diversity, and innovation can help progressives deliver on the promise of progress. ...
Global Challenges, Progressive Solutions
The global progressive movement has been behind almost every social advance of the past decade. In the 21st century, it is needed more than ever. ...
The Lonely Life of a Progressive
The challenges facing today's progressives are larger than ever, but it is still a great time to be a social democrat. ...
The Nation.
Tim Kaine Has a Troubling Record on Labor Issues
John Nichols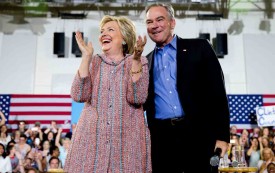 Hillary Clinton's VP pick is a well-regarded senior Democrat, but he has split with labor on the TPP, banking regulation, and even "right-to-work" laws.
The GOP Had a Lousy Convention, but That's Fine by Donald Trump
John Nichols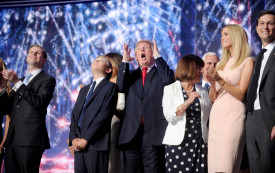 Republicans underestimated Trump. Democrats cannot afford to make the same mistake.
There's Nothing Un-American About Donald Trump
Greg Grandin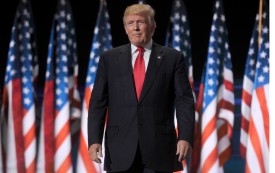 Trump's "Midnight in America" speech at the Republican National Convention could've been lifted directly from the Puritans.
The Press Is Unable to Grasp Trump's Candidacy
Leslie Savan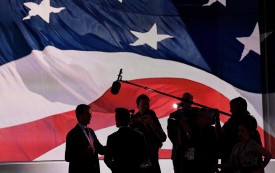 And it may yet take him to the White House.
Melania's Law: What Can Go Wrong, Will Go Wrong
Khalid Rahmaan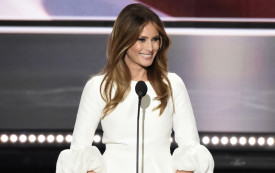 A humorous response to the RNC.
Here's What Conservative Latinos at the RNC Said About Donald Trump
Julianne Hing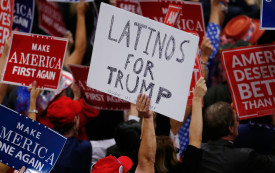 They've managed to overlook Trump's talk about immigrants in favor of his assurances of safety and security.
Airport Workers Have Voted to Authorize a Strike During the DNC
Michelle Chen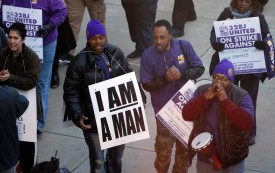 The vote presents a vindication and a challenge to what the DNC calls its "most progressive platform" yet.
Can Trump Win? The Republicans After Cleveland
Start Making Sense, Jon Wiener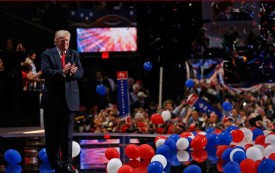 John Nichols, D.D. Guttenplan, and George Zornick on the GOP convention, plus Amy Wilentz and Jon Wiener on Trump's chances.
Sign the Petition to Abolish Superdelegates
NationAction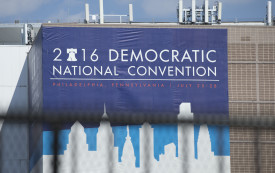 We have the opportunity to get rid of unelected superdelegates for good.
The NBA Moves the All-Star Game, but Also Punishes Players for Political T-shirts?
Dave Zirin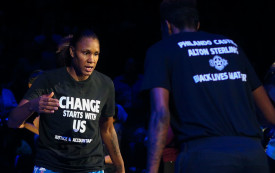 Commissioner Adam Silver, within two days, stood up to bigotry and then cracked down on WNBA players for doing the same. Let's try to make some sense of this.
Campaign for America's Future
The Democratic Strategist
July 22: Mr. Big
After giving some thought overnight to Donald Trump's big and nasty speech in Cleveland, I offered these observations at New York: Donald Trump's law-and-order thematics in his acceptance speech Thursday night offered little documentation for his claim that the ...
Mr. Big
After giving some thought overnight to Donald Trump's big and nasty speech in Cleveland, I offered these observations at New York: Donald Trump's law-and-order thematics in his acceptance speech Thursday night offered little documentation for his claim that the ...
Choice Responses to Trump's Acceptance Rant
At Daily Kos Greg Dworkin rounded up some insightful and funny tweets responding to Trump's 75-minute GOP convention speech, including: James Fallows @JamesFallows: Half this speech is same old fear and mistrust. But some little part, as delivered, is first glimmer ...
GOP's Day Three: Cruz Diss Dominates Headlines
No matter how much lipstick Trump's spin doctors put on the pig, there's no denying that Ted Cruz's non-endorsement stole the show — and the headlines — describing day 3 of the GOP convention. "Cruz Speech Exposes Cracks in ...
Convention Works 'Nice Guy' Theme as GOP Senate Candidates Lay Low
For those who couldn't bear to watch another day of the GOP convention after the opening night mess, The New York Times offers "Republican Convention Day 2: Analysis," a roundtable featuring real time commentary by their team of political ...
GOP Bilefest Sets Bitter Tone for Trump Campaign
If the Republican Convention's opening day is an indication of the acrid tone Trump's campaign will pursue leading up to the election, Hillary Clinton will have no trouble projecting herself as the only presidential candidate with a positive vision ...
Political Strategy Notes
TDS managing editor Ed Kilgore previews the GOP convention in his Daily Intelligencer post at New York Magazine: "The general feeling here in Cleveland a day before the formal opening of the 2016 Republican National Convention is that any ...
False Equivalence Still Reigns Inside Beltway
From Erik Wemple's "Top Beltway journalists cling to heinous assertion of Trump-Clinton false equivalence" at The Washington Post: When top Beltway journalists Carol Lee of the Wall Street Journal and Jeff Mason of Reuters made the case in a ...